About Us
Dependable Travel Solutions (India) is

an ISO 9001 : 2008 certified

Travel company headed by Mr. Deepak Dhyani MTA (Master in Tourism).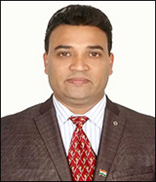 Mr. Dhyani is a young & dynamic tourism professional, who has 14-15 years experience of working with reputed establishments in tourist travel and corporate business. Over this long experience, he has served guests from many countries including Europe, US and Australia. He has worked extensively and successfully with foreign independent travellers, large and small groups, conferences and incentives.

Dependable Travel Solutions (India) strongly believes in Indian philosophy of "Atithi Devo Bhava" which means "Guest is God" and hence provide personalize, dependable, reliable & efficient service to all our valued clients throughout their tour in India with complete satisfaction.

Our speciality lies in providing complete range of customized Travel/ Holiday Packages for Individuals & Groups throughout India. You name it and we will have it for you. Our motto is to provide a safe, secure, lovely & memorable trip of India with uncompromised quality service and personal attention to even minor detail to make you feel like home.

We specialize in :

Customised Travel/ Holiday Packages for Individuals & Groups in India
Special Interest Tours for Individual & Groups in India.
Private Car & Bus hire in India
Air & Rail Tickets in India
Luxury Train Tours in India
Wildlife Tours in India
Adventure Tours in India
Village Tours in India
Short / Long stay tours in India
Beach Tours in India
Honeymoon Tours in India
MICE (Meetings, Incentives, Conferences & Exhibitions) in India
Why should you choose Dependable Travel Solutions (India)?? Because.
We are tourism professionals with tourism degree.
We strongly believe in "Atithi Devo Bhava" or "Guest is God" and hence provide personalize, dependable, reliable & efficient service to all our valued guests.
We are committed to provide quality service and don't compromise on the same.
We provide customized travel packages with honestly and personal attention.
We believe that close personal attention is the key to a successful relationship.
We offer value for money packages by providing a quality of service that is second to none.
We are quick in responding to our clients if there is any enquiry, question or problem and we never keep our clients guessing.
We have very good liaisons with hoteliers & other suppliers and hence we offer services @ better price.
We serve individuals, families & group (whether leisure or corporate), conference & incentives and our objective is to uniquely bring you closer to Indian subcontinent than you ever imagined. Though we have listed just a few sample itineraries in our website, but we also take a great care in tailor-making programs across India to meet your requirements and budget. Whether your dream is to experience Indian culture or Indian history or Indian Heritage or Indian pilgrimage or Indian art & crafts or Indian beaches or Indian hill stations or Indian adventure or Indian Ayurveda or Indian cuisine or Indian Wildlife or Indian train or Indian Luxury trains or Indian Himalaya or Indian backwaters or Indian village or Indian Bollywood or Indian Wedding or Indian sports or Indian Heritage walk or even business and conference, Dependable Travel Solutions (India) is always ready to organize you a perfect itinerary to ensure your dream becomes a reality.

We have included only a few itineraries in our website. However, special programs can be designed on the specified needs of an individual or group. Our programs have been designed to cover the well known & lesser known tourist destinations of the Indian sub continent that enable you to experience this wonderful & beautiful country.

We welcome you to India, which is known for its rich history, diverse culture and tradition. India is one of the most incredibly beautiful countries of the world. The diverse landscape and its vastness have made India a 'sub-continent.' Guarded on the northern frontier by the lofty Himalayan peaks, Thar Desert in the West, the Indian Ocean in the South and the Bay of Bengal in the East, India stands tall amidst the several other Asian countries. Each individual travelling to India has unique requirements, wishes and dreams. For many it is a journey of lifetime, for others might be searching for a history & cultural and adventure thirst quenching experience but all summed up in context of pure and delightful Indian experience. If you are in search of the above, then we invite you to join us and no doubt you will be in the safe hands of Indian travel specialist and enthusiasts. We take great care in listening to what you say and accordingly recommend you the final program. Our aim is to share our passion & experience about India and to be your host in our incredible country. We endeavour to keep our rates competitive, whilst offering a highly professional and personalized service.


Contact Us :



Dependable Travel Solutions (India)
104, Royal Palm Apartment, GH- 6, Sushant Lok- II,
Sector- 56, Gurgaon, (Delhi, NCR)-122003, (Haryana) India
Tel : +91 124 4260178
Mobile : +91 98718 08177, +91 8800904167
E-mail : deepak@dependabletravelsolutionsindia.com, info@dependabletravelsolutionsindia.com
Personal E-mail : deepakdhyani@hotmail.com, deepak@india-tourismpackages.com;
Website : www.dependabletravelsolutionsindia.com, www.india-tourismpackages.com


Our UK Representative:

Mrs. Yvonne Lawrence
6 Hallowsgate Court, Kelsall, Tarporley, Cheshire, CW6 0RE, UK
Tel: +44 1829 751730; Mobile +44 7709 342430
E-mail: yvonnelawrence@talktalk.net

BANK DETAILS :

Bank Name : ICICI BANK
Account Name : DEPENDABLE TRAVEL SOLUTIONS (INDIA)
Account Type : CURRENT ACCOUNT
Account No. : 039905003314
Branch address : Shop No. 19 & 20, Vipul Orchid Plaza, Sun City, Sector- 54, Gurgaon- 122003 (Haryana) India
RTGS/ NEFT IFSC Code : ICIC 0000399
Swift Code : ICICI NBBCTS