Delhi-Jodhpur-Udaipur-Chittorgarh-Sawai Madhopur-Jaipur-Khajuraho-Varanasi-Agra-Delhi
Royal Rajasthan on Wheels is India's Luxury Train, takes you through Royal Forts and Palace of vibrant Rajasthan. The journey of lifetime begins at New Delhi's Safdarjung railway station and you will be taken through the various erstwhile princely states of Rajasthan like Jaipur, Jodhpur, Udaipur, Chittorgarh and Sawai Madhopur etc. After visiting the vibrant Rajasthan, you will be taken to famous Khajuraho temples and then to Varanasi- an ancient and holiest cities of India and finally to the world famous Taj Mahal…
The itinerary of Royal Rajasthan on Wheels includes 07 Nights/08 Days of a royal journey on this luxurious train, during which you will visit many beautiful cities, historical monuments, wildlife sanctuaries and experience a lifetime enjoyment. The train leaves Delhi on every Sunday from its Safdarjung railway station.
Day 01 (Sunday): DEPARTURE FROM DELHI
This afternoon, you will be well received on your arrival at Delhi airport and transfer to Safdarjung railway station.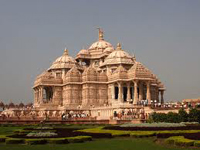 Delhi is the capital of India- the largest democratic and 2nd most populous country in the world and the city has seen its rise and fall several times. New Delhi is the 8th city built by British. Delhi is famous for its beautiful monuments built by different emperors, which can be seen during the city tour.
16h00: The journey of a lifetime begins at the Delhi's Safdarjung railway station, where the guests are accorded a warm and traditional welcome.
After check in, you would be escorted to the respective cabins. Feel the difference of the World in the moving Palace which empowers luxury and tradition.
21h00: Depart towards Jodhpur.

Day 02 (Monday): JODHPUR
08h00: Arrive Jodhpur and breakfast on board. Later, proceed for city tour of Jodhpur.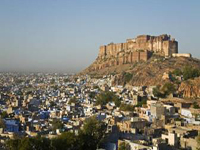 Situated in the eastern side of picturesque Thar Desrt, Jodhpur was founded by Rao Jodha in 1459AD, when he shifted his capital from Mandor to a few kilometers away and named it after himself. Jodhpur is also called "the Blue city" because of the Blue colour painted on its houses in the old city. Once the centre of Marwar, the largest princely state of Rajputana, today Jodhpur is the second largest city in Rajasthan and popular for its massive Mehrangarh Fort. Jodhpur is famous for its tie-and-dye fabrics, silver jewellery, embroidered 'jutis' or Rajasthani shoes, antiques, carpets, leather work from camel skin, Rajasthani puppets and marble inlay work.

Proceed for city tour of Jodhpur, visiting the most imposing monument of Jodhpur- Mehrangarh Fort, which is undoubtedly the most prominent landmark of the city. The museum within the fort is one of the finest in Rajasthan and displays royal apparel, ancient paintings and manuscripts, fabled treasures of the royal household and an armoury. Jaswant Thada, which is Maharaja Jaswant Singh II's cenotaph, built in 1899. All previous rulers have their cenotaphs at Mandore.Lunch at the fabulous 5 star hotel.
16h30: Depart towards Udaipur and dinner on board.

Day 03 (Tuesday): UDAIPUR & CHITTORGARH
07h00: Arrive Udaipur and breakfast on board. Later, proceed to visit the city of Udaipur.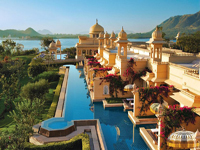 Udaipur was built by Maharaja Udai Singh in 1568, when he shifted his capital from Chittorgarh to Udaipur because of its swampy location beside Lake Pichola and was protected on all sides by Aravali hills. Udaipur has been enjoying a reputation as Rajasthan's most romantic city because of its fantastic location and its famed lake Pichola. Udaipur is also considered as the jewel of Mewar, because of its Forts and palaces, gardens and temples all around its beautiful lakes.
Proceed for city tour of Udaipur, visiting The City Palace stands on a hill on the banks of Lake Pichola. It was built in 1567 and consists of 4 major palaces and several minor palaces that form a single façade. Jagdish Temple, which was built by Maharaja Jagat Singh in 1651 is dedicated to Lord Vishnu and is located in the centre of the old city. Sahelion ki Bari, which was built by Maharana Sangram Singh for his daughter and the ladies of the Queen's court. The Vintage and Classic Car Collection where grand limousines and cars showcased in the museum. They all are the private collection of the House of Mewar and are in perfect running condition. The collection includes a Rolls Royce, 1939 Cadillac open convertibles, rare Mercedes models, a 1936 Vauxhall, a 1937 Opel and an MG-TC 1946 convertible etc.
Lunch at 5 star hotel & in the afternoon followed by a trip to crystal gallery.
14h30: Depart towards Chittorgarh.

16h45: Arrive Chittorgarh and proceed to city tour of Chittorgarh.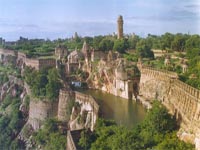 Chittorgarh is an old city in the state of Rajasthan and was the capital of the former Rajpu state "Mewar". Chittorgarh was the only place in Rajasthan, whose rulers never surrendered before anyone. They always chose death before surrendering against anyone. Chittorgarh was captured Ala ud din Khilji, the Sultan of Delhi in 1303 AD, who had heard about the great beauty of its Queen Padmini. Since Ala ud din let a huge army, the Queen Padmini preferred death to abduction and dishonour and committed jauhar (an act of self-immolation by jumping into a large fire) along with all the other ladies of the fort and all the men left the fort fought against the enemy until their death. Chittorgarh is known for its history of heroism and sacrifice.
Proceed to visit Chittor Fort (Battlefields of battles between the Ranas of Chittor & Alauddin Khilji, Sultan Bahadur Shah of Gujarat & Emperor Akbar). It is a massive fort. The fort has many magnificent monuments. Though it is a ruined citadel now, but there is still much more to see in this huge fort. Rana Kumbha Palace which is the most massive monument in the fort of Chittaur. The palace is believed to have underground cellars, where Rani Padmini & other women of the fort committed suicide "Jauhar". Victory Tower, which was built in 1440 AD by Maharana Kumbha to commemorate his victory over Mohamed Khilji. This 9-storyed tower is adorned by sculptures of Hindu deities all around. This tower is the piece-de-resistance of Chittorgarh. Palace of Rani Padmini was built beside the lotus pool with a historical pavilion that changed the history of Chittor. Ala-ud-din Khilji saw the reflection of Queen Padmini from here & became made to find her, as she was so very beautiful. In the quest of getting her led to a furious battle with Queen Padmini's husband & the epitome of beauty- Queen Padmini of Chittorgarh, became an eternal legend in the history of Chittor.

The light & sound programme is shown at the fort. Dinner on board/ Hotel Panna with cultural programme.
22h00: Depart towards Sawai Madhopur.

Day 04 (Wednesday): SAWAI MADHOPUR & JAIPUR
05h30: Arrive Sawai Madhopur and breakfast on board or Hotel Vinayak.
Ranthambore National Park is one of the biggest and most renowned national park in Northern India. The park is located in the Sawai Madhopur district of Rajasthan, which is about 140Kms from Jaipur. It was as one of the famous and former hunting grounds of the Maharajas of Jaipur and today Ranthambore National Park is a major wildlife tourist attraction for many wildlife photographers and wildlife lovers. Ranthambore National park is spread over an area of 1,334 Sq Km along with its nearby sanctuaries like - the Mansingh Sanctuary and the Kaila Devi Sanctuary. The park is majorly famous for its tigers and is one of the best locations in India to see the majestic predators in its natural habitat. There are far better chances to see the tigers here as compared to other national parks in North India.
Proceed for Jungle Safari into Ranthambore National Park.

Lunch on board.
09h30: Depart towards Jaipur.
11h30: Arrive Jaipur and proceed for city tour of Jaipur.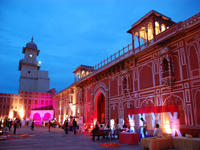 Jaipur or the Pink City was founded by Maharaja Jai Singh II (1693-1743) and is the capital city of the state of Rajasthan. Jaipur is surrounded by hills and the beautiful forts. Jaipur with Agra and Delhi has made a circuit, which is called India's Golden Triangle- the most popular tourist destinations in India. Jaipur is a planned city built according to the ancient Hindu treatise "Vastu Sashtra". The orderly bazaars of the old town are ranked among the most vibrant in Asia. Jaipur is the perfect place to shop for Handicrafts, antiques, jewelry, gems, pottery, carpets, textiles, metalwork and leather ware. Jaipur is renowned for hand- dyed and embroidered textiles, Handicrafts, antiques, pottery, carpets, jewellery and the best selection of precious stones and metals in India.
you will be welcomed by caparisoned elephants & sweet music of the auspicious 'Shehnai'.
Watch the awesome 'Hawa Mahal' (the palace of winds), which is Jaipur's most famous building was built for the ladies of the harem.
Later, visit to Amber Fort. Amber Fort is built on the crest of a rocky hill behind the Maota Lake in the outskirt of Jaipur. Amber was the capital of the Kuchwaha rajputs from 1037- 1728. Ascend the Fort on elephant back (subject to availability). Amber Fort has a magnificent Palace compound. One can enter the Palace complex through Suraj Pole (Sun Gate) and step into Jaleb Chowk, where one can have elephant ride. Singh Pole (Lion Gate) give the access to the palaces. Diwan- i- Am (public Audience), Ganesh Pole, Sheesh Mahal, Jas Mandir (temple), Sukh Mahal and the Palace of Mansingh I are worth visiting.
Lunch at a 5 star hotel / on board.

In the afternoon, proceed to visit the City Palace, built between 1728- 1732, it occupies the center of Jaipur and is surrounded by high walls. The important buildings within the Palace are textile and the costume museum, armory museum, Diwan-I-Khas and Diwan-I-am. And Jantar Mantar is the largest stone observatory in the World and one of the five astronomical observatories built by Maharaja Jai Singh in India.
Dinner hotel Jai Mahal Palace with cultural program.
22h15: Depart towards Khajuraho.

Day 05 (Thursday): KHAJURAHO
10h00: Arrive Khajuraho and breakfast on board. Later, proceed for city tour of Khajuraho.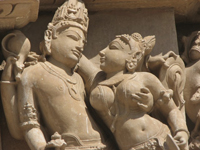 Khajuraho is a beautiful town located in the Bundelkhand region of Madhya Pradesh and is very famous for groups of Hindu and Jain temples. Khajuraho is more popular for its erotic sculpture carvings, which were built between 10th and 11th centuries AD as the greatest architectural achievement of the Chandela dynasty. Khajuraho has the Vindhya range of mountains as its beautiful backdrop. These temples are a UNESCO World Heritage site for their architectural beauty and this has made Khajuraho a more fascinating destination.
After breakfast on board, proceed for city tour of Khajuraho, visiting the Eastern & Western group of temples.
Khajuraho is famous for its imperial temples. The temples were built by the rulers of Chandela dynasty between 10th and 11th century. The construction of the temple just took around 100 years to complete. There were around 85 temples in the area but only 22 temples exist now. Kandariya Mahadev temple was built between 1025- 1050 AD is the largest and most imposing temple of the Western Group. It is specially popular for its erotic sculptures carved on the walls.
Lunch at Hotel Clarks Khajuraho.

After Lunch visit of south group of temples and museum.

Return to train evening tea, rest and shower.
In the evening guest will witness light & sound (son-et-lumire). The show detailing the history of Khajuraho has been introduced at the western group of temples.

Return to train and dinner on board.
20h00: Depart towards Varanasi.

Day 06 (Friday): VARANASI (Benaras)
06h00: Arrive Varanasi.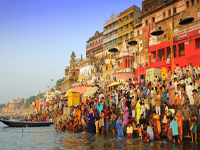 Varanasi is one of the oldest town and most important pilgrimage centre for Hindus in India. It has been a religious capital of Hinduism since the time immemorial. Situated on the banks of the sacred Ganges, Varanasi has been a center of learning and civilization for more than 2,000 years. Known to the devout as Kashi, the Luminous- the city of light, founded by Lord Shiva- Varanasi is one of the oldest living cities in the world. Anyone, who dies in Varanasi attains instant "moksha" or enlightenment. Old age come here to seek refuge or to live out their final days. Varanasi is amongst the holiest of all tirthas (pilgrimages).
This early in morning, proceed for boat ride on the holy river Ganges to see the bathing Ghats, people taking holy bath in the river Ganges, Brahmin priest offering Puja to river Ganges, people doing meditation and Yoga. Hindus regard the Ganges as "Amrita"- the elixir of life, which brings purity to the living and salvation to the dead. The life on the Ghats bound to an endless rituals. One can also observe cremations "burning of dead bodies" by the bank of river Ganges. Ganga water is so pure that one can keep it for months without any bacteria.
Later, disembark from the boat and walk through the narrow ghats to see the old temples of Varanasi.
Return to train for breakfast.
Later, proceed to visit Sarnath.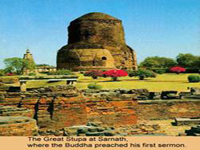 Sarnath is one of the most popular Buddhist pilgrim centre. It is located 10Kms north of Varanasi. It is a very religious and cultural place for Buddhists. Lord Buddha preached his first sermon here (after gaining Enlightenment at Bodh Gaya) before his five disciples 2500 years ago. This first sermon was called Dharmachakrapravartana or Turning of the Wheel of Law. It is also birth place of the 11th Jain Tirthankar Shreyans Nathji. There is one Shiva Temple also. So Sarnath is a place of Inter religious faith.
Lunch at Hotel Gatway Taj Ganges and return to train for the rest.

In the evening, you will be taken to the "ghat" or bank of river Ganga to witness the evening "Aarti" of river Ganga.
Return to train and Dinner on board.
21h00: Depart towards Agra.

Day 07 (Saturday): AGRA
07h30: Breakfast on board.
10h00: Arrive Agra and proceed for city tour of Agra.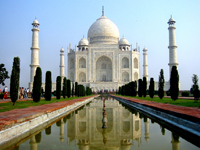 Agra is famous for world's most beautiful monument of love- Taj Mahal. The history of Agra is much older than the times of Mughals but during the Mughal Empire, Agra had become one of the great centers of art, culture, learning and commerce. All the great monuments with magnificent work of art and craft are still flourishing in the city including leather work and pietra dura marble-inlay work. Agra is famous for its marble work like tabletops, vases and trays, inlaid with semi precious stones or gems in ornate floral designs, an imitation of those found in the Taj Mahal. Agra is also an excellent place to buy leather, as it exports shoes, bags, briefcases and jackets.
Proceed for city tour of Agra, visiting the massive Agra Fort- constructed out of red sand stone by the Mughal Emperor Akbar and containing the Halls of Public and Private Audience. And the world famous Taj Mahal, which was built by the Mughal Emperor Shah Jahan as the mausoleum of his beloved Queen Mumtaz Mahal, after her death in 1631. The Taj Mahal is recognized worldwide as a symbol of eternal love. Taj Mahal remains closed on Fridays.
Agra is known for its splendid marble inlay work like the Pietra Dura work on the Taj, leather goods and jewellery.

Lunch at Hotel Jay Pee Palace.
Return to train and Dinner on board.
21h00: Depart towards Delhi.

Day 08 (Sunday): ARRIVE DELHI
04h00: Arrive Delhi
07h30: Breakfast on board.
0830: Disembark and let the pleasant memories of the past week linger on your mind for a long, long time!!
You will be well received on your arrival at Safdarjung railway station and transfer to airport to board your flight back home with sweet memories of your trip with Dependable Travel Solutions (India) !!

***END OF THE TOUR***