Deepak
Sorry about the delay in providing feedback on the holiday(adventure!!!?). Have had a few issues to resolve at this end but all now OK.
We enjoyed our travels in India and glad to see more of what is a large and diverse nation. Particularly pleased with our time in Kerala which provide a rare mix of Europe and the Eastern cultures.
Thank you for your hard work in guiding us through our stay. Your attention to detail and sensitivity is much appreciated.
Best wishes to you and your family
Mike and Linda Williamson
UK
---
Hello Deepak,
Yes we have now recovered from our trip with you in your wonderful India. I must say that we have slept a lot since we got back and I dare say that you have had some recovery time yourself.
We (or rather you!) packed a lot of sights and experiences into the two weeks. It was our first trip to your country as you know and you have provided us with happy memories of so many places and we thank you for all your tireless work and attention to detail in providing us with a holiday that we won£t forget.
We know that you take great pride in doing a job fully and well and you certainly succeeded with our visit! .....Well done and many thanks. We will certainly have no hesitation in recommending your travel company to friends and relations who plan to visit India in the future.
Thanks for you photo£s, you have a lovely family and give them our best wishes. I bet they were glad to have you home again.
We hope that you got some enjoyment out of our trip even though you were always on duty. It can£t have been easy with such a large group to look after. I would just like to say how good and knowledgeable all the guides were at all the different destinations, you certainly have a great network of people.
Once again our sincerest thanks Deepak,
Kindest regards,
Philip and Christine Gallimore
UK
---
Hi Deepak,

Thank you for your e-mails & apologies for my late reply but life has been a little hectic since our return from India.
Jan and I both had a fabulous time in India, definitely a trip of a lifetime, we saw and experienced so many things.
We would like to thank you for all your hard work in not only making the trip so enjoyable but also in giving us the opportunity to experience your country£s culture and see as much as possible in the time we had.
We hope that your family are well and that we meet again in the near future.

Thank you once again,
Helen & Jan
UK
---
Dear Deepak,
First I want to thank you so much for the trouble less program you arranged for us.
I will certainly recommend you to my coworkers and friends who may be visiting India, and sometime in the future I will send you some contacts after getting their permission.
Thank you again and I will talk to you later.
Best Regards
Ali A. Mousa
Jordan
---
Hello Deepak

Thanks for the mail, I arrived home safely this afternoon.
It has been an amazing trip, thanks for all your efforts in making our 2 MONTHS long India trip so successful.
Once again many thanks & have a good evening

Rae & Belinda
UK
---
Dear Deepak,
First let me say thank you for the help with Coral, I was so upset when we were so abruptly separated and unable to even hug her good bye. The trip was wonderful and Holi in Mathura was amazing.....all of us enjoyed this festival of colors.
I am sending a picture to you with this message. Do we still owe you anything? I would like to send something for the guide in Delhi as we did not realize we would not see him and did not give him a tip. Let me know if we owe you anything further and I will include that as well. I have been down with a kidney infection for the past week and not on my email much so my apologizes for this just coming to you.
I hope all is well with you and your family. Please stay in touch and hope to see you next time.
Deb Dixon
USA (Living in Saudi Arabia)
---
Hi Deepak Ji,
Thank you for organizing a nice trip for me and my family to Corbett, Nainital & Kausani.
It was a great trip and everything was perfect except 2nd Jeep safari inside Corbett National Park, where we could not see much, as our jeep got stuck inside the jungle due to mechanical fault. But thanks to you for organizing another jeep for us and we could go back to our hotel. Though there were driver and guide with us in the jeep but still we were very afraid, as it was dark around and we were with our family & kids. But overall, we had a real jungle experience in Corbett.
I will recommend you to my friends and will be in touch with you for any other trip soon.
Ajit Gole & Family
Pune
---
Dear Deepak,
Thank you very much for organizing such a nice CHARDHAM YATRA for us in Uttarakhand.
All the hotels were very good and the car was excellent with driver Rakesh, who was very knowledgeable and tried his best to make our trip comfortable.
We will surely recommend you and your company to all our friends.
Ashok Khare & Family and Dr. Gupta & Family
Jabalpur (Madhya Pradesh)
---
Dear Deepak Ji,
Just to thank you for organizing this lovely trip for my family to Himachal Pradesh (Dharamshala, Dalhousie & Amritsar), which was really great and we had a good time. All the hotels selected were beautiful and car & driver were superb.
Thank you again and we will be in touch for next trip.
Suvendu Choudhury
Mumbai
---
Dear Deepak Ji,
Just to say THANK YOU for organizing our HONEYMOON TRIP to Manali, which were fantastic and the hotel provided by the riverside was amazing! We really had a great time together and had a nice tour of Manali. The journey in overnight Volvo Bus was also very good and comfortable.
Please be in touch and we will definitely book our next trip through your company.
Rohit Saraf
Pune
---
Testimonials Image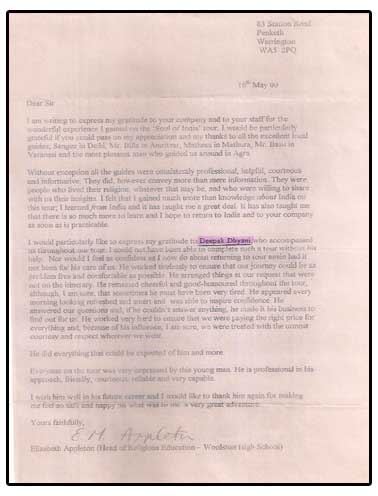 ---
Testimonials Image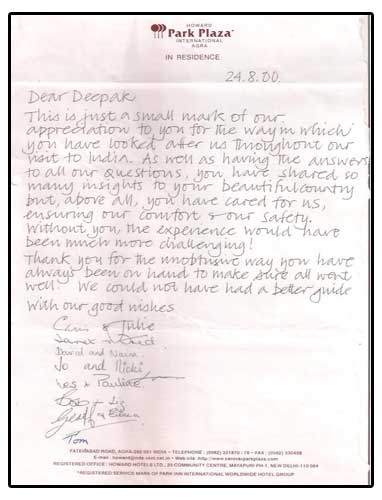 ---
Testimonials Image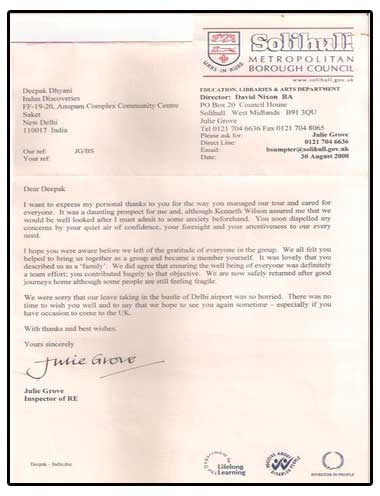 ---
Testimonials Image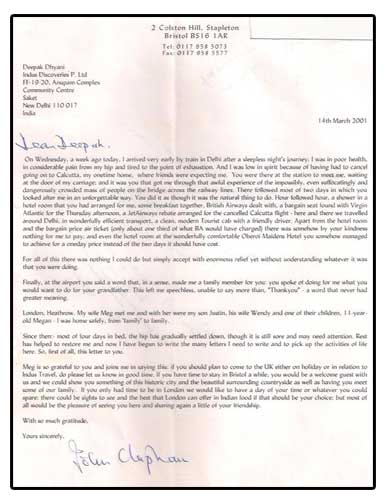 ---
Testimonials Image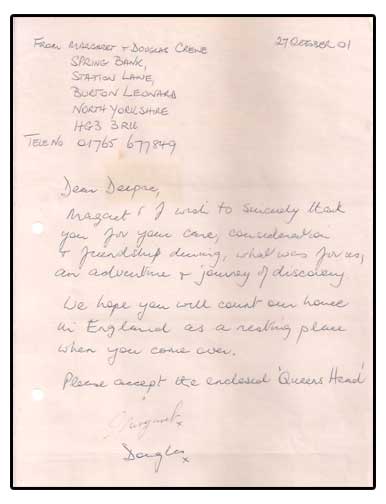 ---
Testimonials Image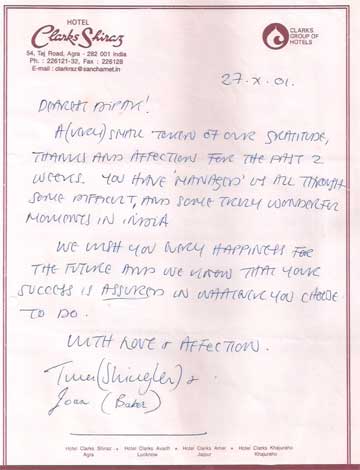 ---
Testimonials Image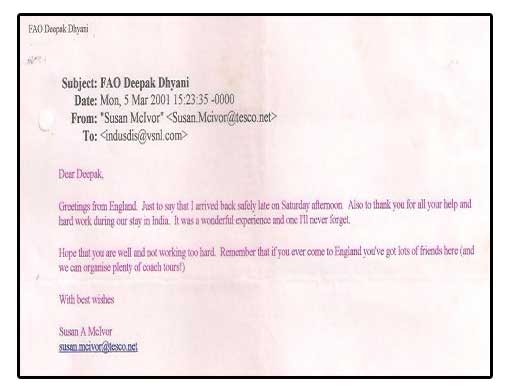 ---
Testimonials Image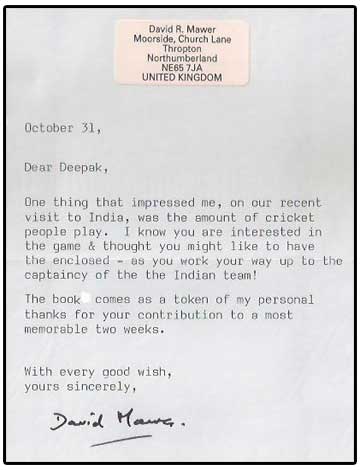 ---
Testimonials Image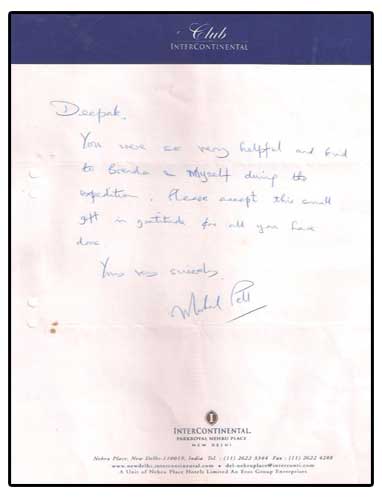 ---
Testimonials Image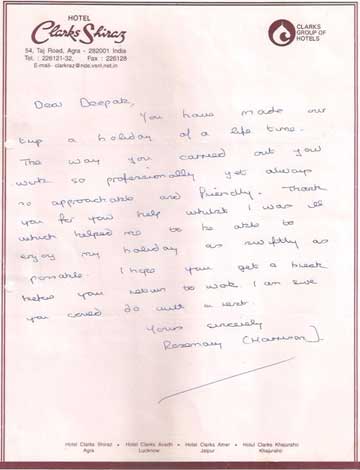 ---