Home
»
South India Tours
» South India Beach & Backwater Tour
South India Beach & Backwater Tour
Duration:
13 Nights/14 Days
Destinations:
Chennai- Mahabalipuram- Pondicherry- Chidambaram- Darasuram- Tanjore- Trichy- Madurai- Periyar- Kumarakom- Houseboat- Cochin
Day 01: Arrive Chennai
Arrive Chennai in the afternoon or evening.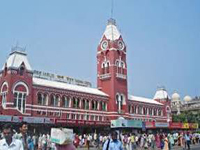 Chennai (Madras) is the capital city of southern India state of Tamilnadu and the fourth largest metropolitan city in India. Situated on the East coast, the city was grown up around the English settlement of Fort Saint George and extended up to the surrounding towns and the villages. Despite the strong hold of British and its influence, Chennai has retained its traditional Tamil Hindu culture. Chennai is called as "The Gateway to South India" and renowned for its rich history, ancient temples, dance and art forms.
You will be well received on your arrival at the airport and transfer to hotel.
After check- in formality, you will check in to the room.

In the afternoon, proceed for city tour of Chennai, visiting Fort St. George- The first British Fortress in India built by East India Company in 1640 for the permanent settlement English people. Today the fort houses the Tamil Nadu Secretariat and the Legislative Assembly. Santhome Church- is built over the tomb of Apostle St. Thomas, who was one of the twelve Apostles of Jesus Christ came to India in A.D.52, martyred in A.D.72 and was buried here in Mylapore. St. Thomas is considered to be the Father of Christianity in India. Government Museum- is a multi-purpose Museum located in the heart of the city in 16.25 acres of land. Kapaleeswarar Temple in Mylapore- is one of the ancient Lord Shiva Sthalas in south India. The Shiva lingam was consecrated by Lord Brahma and called it Kapaleeswarar. Marina Beach is the most famous beach of Tamil Nadu and is one of the largest beaches in India.
Overnight in Chennai.

Day 02: Chennai/ Kanchipuram/ Mahabalipuram (150Kms & 4hrs drive)
After breakfast at hotel, drive towards Mahabalipuram, enroute visit Kanchipuram.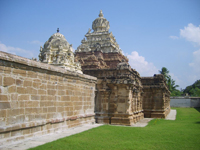 Kanchipuram (80Kms & 2hrs drive)- which is known as the Golden City of Thousand Temples and one of the oldest towns in India. It is famous for both its temples and for its hand-woven silks. Kanchipuram is one of the seven sacred cities of India, which is associated with both Lord Shiva and Lord Vishnu.

Arrive Kanchipuram and proceed for city tour of Kanchipuram, visiting Ekambareshwar Temple, Kailashnath Temple, Kamakshi Temple, the Vaikunthaperumal Temple etc. all of them were built in the 7th and 8thcentury. The weaving tradition of Kanchipuram goes back to the Pallava era, when silk was the royal cloth. Kanchipuram is very famous for its particularly fine silk sarees designed with stunning patterns.
Visit the local homes of the weavers and watch them create magic out of silk thread into sarees.

Continue drive towards Mahabalipuram (70kms & 2hrs drive).
Located on the east coast, Mahabalipuram (Mamallapuram) is a beautiful beach destination in South India. It is situated 60Kms from Chennai on the Bay of Bengal, Mahabalipuram is famous for its unique 7thcentury Shore Temple and some of the most beautiful rock-cut temples in the world. Mahabalipuram was a well established sea port during the Pallava dynasty from 7th and 10th century. This was the second capital of the Pallavas who ruled Kanchipuram. The city was named after king Mahabali, who was very rude and cruel and was killed by Lord Vishnu in a fierce battle.
Arrive Mahabalipuram and check in at your hotel.
Overnight in Mahabalipuram.

Day 03: Mahabalipuram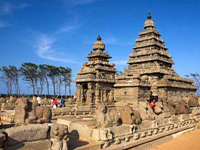 After breakfast at hotel, proceed for city tour of Mahabalipuram, visiting the seven pagoda-style Shore temples of 7th century built by Pallavas. Panch Rathas- the Five Rathas is a rock-cut temple built in late 7thcentury by the Pallavas and a group of monolithic monuments & animal figures carved out of solid rock. Arjuna's Penance is made on two massive boulders.
Rest of the afternoon at leisure by the beach.
Overnight in Mahabalipuram.

Day 04: Mahabalipuram/ Pondicherry (130Kms & 3hrs drive)
After breakfast at hotel, driver towards Pondicherry.

Located on the Eastern coast of India by the Bay of Bengal, Pondicherry (Puducherry) is the capital of the Union Territory "Puducherry", which means "New Town". Popularly known as "Pondy", was ruled by the French for about 3 centuries from 1675 to 1954 and it is still influenced by the French culture in India. The main attraction of Pondy is 32Kms long coastline, lovely beaches, fishing villages, Sri Aurobindo Ashram and the French town.
Arrive Pondicherry and check in at your hotel.
In the afternoon, proceed for city tour of Pondicherry, visiting Sri Aurobindo Ashram. Sri Aurobindo was a great spiritual leader and freedom fighter, who settled in Puducherry and established this Ashrama in 1920. Promenade- is a 1.5Kms long beach area facing the Bay of Bengal and offers picturesque view of the area. The statue of Mahatma Gandhi and a War memorial can be seen here. The Sacred Heart of Jesus Church is one of the finest and most beautiful churches of Puducherry. This church is 100years old and known for its Neo- Gothic Architecture. Auroville- is a community and model city, where people from around the world will forget their differences and live together in harmony as a part of the same community.
Overnight in Pondicherry.
Day 05: Pondicherry/ Tanjore (180Kms & 5-6hrs drive)
After breakfast at hotel, drive towards Tanjore, en route visit The Nataraja Temple at Chidambaram.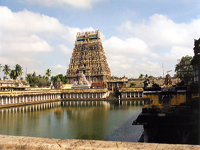 Nataraja Temple is a Hindu temple dedicated to Lord Shiva located in the heart of the town of Chidambaram. The presiding deity of the temple represents Akash (aether), one of the five natural elements of the universe and known as Akasa Lingam. Other four temples are: Thiruvanaikaval Jambukeswara- Trichy (water), Kanchi Ekambareswara- Kanchipuram (earth), Thiruvannamalai Arunachaleswara- Thiruvannamalai (fire) and Kalahasti Nathar- Kalahasti (wind).
Continue drive and visit The temple of Airavatesvara in Darasuram, which is one of the 4 biggest temples erected by the Cola Dynasty along with Tanjore, Gangaikondacolapuram and Tribhuvanam. The temple is a world heritage site by UNESCO.
Continue drive to Tanjore.
Tanjore (Tanjavur) lies on the south bank of the Kaveri River in the state of Tamilnadu, was the capital of the Mutharayars and Chola rulers. Tanjore was a historic town founded by Mutharayar and was a seat of power for centuries. After Cholas, it was ruled by the Pandyas, Vijayanagar Empire, Nayaks and Marathas. Tanjore has more than 90 temples, belong to Chola rulers, Nayakas and Marathas. Tanjore is famous for its Brihadeeswara Temple, which is UNESCO World Heritage Site.
Arrive Tanjore and check in at your hotel.
Overnight in Tanjore.

Day 06: Tanjore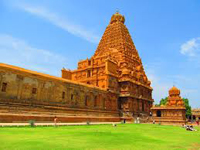 After breakfast at hotel, proceed for city tour of Tanjore, visiting Brihadeeshwara Temple- which is dedicated to Lord Shiva and built by King Raja Rajan from the year 985 AD - 1010 AD. This is one of the superb temple architecture of Chola dynasty. The Tanjavur Palace- is a massive structure with wide corridors, huge halls, observation towers and lovely courtyards. The palace houses a library, an art gallery and a museum. The Royal museum has a beautiful display of items from the past rulers. The Art Gallery has a lovely collection of artifacts of the 8th and 9th century belongs to the Chola dynasty.
Rest of the day at leisure for shopping etc.
Overnight in Tanjore.

Day 07: Tanjore/ Trichy/ Madurai (195Kms & 5-6hrs drive)
After breakfast at hotel, drive towards Madurai, enroute visit Trichy (55Kms & 1.5hrs drive).
Trichy (Tiruchirappalli) is situated on the bank of the river Cauvery is the fourth largest city in the state of Tamil Nadu. Trichy is a historical city built around the Rock Fort. The city is famous for its architectural monuments and Tamill Hindu culture. Trichy was the main centre around which the wars of the Carnatic were fought between British and French in 18th century.
Arrive Trichy and proceed to visit the famous Rock Fort temple, which is built on 83mtr high massive rock by the Pallavas as a small cave temple. To reach the temple, 437 steps have been carved out on the stone. The temple is dedicated to Lord Vinayaka and offers a wonderful view of the city.
Continue drive and visit Srirangam Vishnu temple, which is another important landmark in Trichy. This temple is one of the largest and most beautiful temple complexes in India. The temple is built on the Srirangam island in the middle of the Kaveri river and covers an area of around 2.5 Sq. Kms. The main temple is dedicated to Lord Vishnu. Non Hindus are not allowed into the sanctum sanctorum but they are allowed into the sixth wall. The temple is surrounded by seven walls and has 21 magnificent gateway towers (gopurams) and the 22nd gateway tower is about 73mtr (or 236 feet) high, which is the tallest temple tower in India and Asia. It also has a 1000-pillared hall with beautifully carved.
Continue drive towards Madurai.

One of the South India's great temple town, Madurai is famous for its Meenakshi Temple. Situated on the banks of river Vaigain, Madurai was the capital of great Pandya Kings. Madurai is one of the most ancient heritage site in India known for its rich culture more than 2500 years old. As per Hindu mythology, Lord Shiva himself performed sixty four wonders here called "Thiruvilaiyadals". Megasthanes visited Madurai in 3rdcentury, followed by other people from Rome and Greece to establish trade with the Pandyas. Later Madurai was captured by Cholas in 920AD and ruled Madurai until 1223AD. Madurai flourished under Cholas. In 1223AD, Pandyas regained Madurai and built many beautiful monuments including Meenakshi Temple. In 1311, the general Malik Kafur of Delhi Sultan Allauddin Khilji attacked Madurai and robbed the city for precious jewels and other treasures and later in 1323AD, Madurai became the part of Delhi empire under Tuglak rulers. In 1371, Madurai was captured by Vijayanagar empire of Hampi and it became the part of Vijayanagar empire.
Arrive Madurai and check in to your hotel.
Overnight in Madurai.

Day 08 : Madurai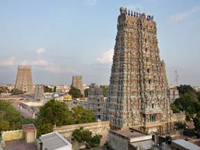 After breakfast at hotel, proceed for city tour of Madurai, visiting Meenakshi Temple, which is one of the largest temple complexes in India with 6 hectares of land, dedicated to Goddess Meenakshi- consort of Hindu God Lord Shiva. The temple is ofren called as Meenakshi Amman Temple. Goddess Parvati is known as Meenakshi and Lord Shiva is known as Sundareshwarar and therefore it is also called Meenakshi Sundareshwarar temple. The temple was built by Pandyans with 14 towers (entrances) called Gopurams. Out of which the southern towers is the tallest with 50ft height. Like other gopurams, it is also full of the images. Thirumalai Nayak Palace was built in 17th century by Thirumalai Nayak of Nayak dynasty in Indo-Sarcenic architecture. The main highlight of the palace is the sound and light show, which showcases the proceedings happening in the court of the King based on the life of Silapathikaram and Tirumalai Nayak. The palace consists of 248 pillars (58ft high) and the ceiling has paintings depicting both Shaivite and Vaishnavite themes.
Rest of the day at leisure for shopping etc.
Later in the evening attend Puja (worship) ceremony at Meenakshi temple.
Overnight in Madurai.

Day 09: Madurai/ Periyar (145Kms & 4hrs drive)
After breakfast at hotel, drive towards Periyar.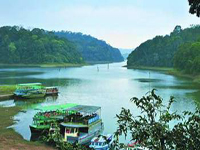 Periyar is small town in Kerala famous for its Tiger Reserve and National Park, which was established in 1934 as the Nelliampatty Sanctuary. The Park was enlarged in 1950 and it is India's southernmost tiger reserve. The Periyar lake covers an area of about 10 sq. miles and most of the sanctuary is undulating.

Arrive Periyar and check-into your hotel.
Rest of the afternoon at leisure.

In the later afternoon, proceed for boat cruise on Periyar Lake to see the wild life.
Boat cruise is the best option to see the wildlife in Periyar National Park. Periyar Lake presents an excellent boating experience to tourists. Though you can't see many animals from the boat, but you can still spot the Elephants, Wild Boar and Sambar Deer etc.
Overnight in Periyar.

Day 10: Periyar/ Kumarakom (140ms & 4hrs drive)
After breakfast at hotel, proceed to visit the plantation.

Periyar (Thekkady) is famous for its spice plantation. You can see the plantation of cardamom, rubber, vanilla and coffee etc and hear the melodious sound of the chirping birds and rippling stream and the fragrance of fresh air while exploring the spice plantations.

Later, drive to Kumarakom.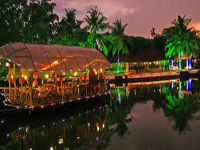 Kumarakom is a small village on the Vembanad Lake, popular for its bird sanctuary, which is a favorite haunt of migratory birds. One can see Egrets, waterfowl, cuckoo, wild duck, darters, herons, teal and migratory birds like the Siberian stork that live here in flocks. Kumarakom is centre of Ayurveda in Kerala.

Arrive Kumarakom and check in to your hotel.
Check in @ 12h00 (early check-in is subject to availability).
Rest of the day at leisure for Ayurveda (on direct payment) etc.
Ayurveda means Knowledge or Science of Life. It deals with the maintenance of our body and relief from diseases. The aim of Ayurveda is to achieve happiness of both body and mind. This is an ancient medical system of India and still flourishing particularly in Kerala. One of the treatments is massages with medicinal oils. It is amazing and you will really feel rejuvenated…
Overnight in Kumarakom.

Day 11: Kumarakom- Day excursion to Kottayam
Wake up early this morning and proceed for boat ride through narrow canals to visit the bird sanctuary.
Return to hotel for breakfast.
After breakfast at hotel, proceed to visit Kottayam.


Kottayam is an old Christian village that has been preserved by its large Syrian Christian population. It is one of the oldest villages in Kerala. The best known churches are Syrian Orthodox churches i.e. Valia Palli and Cheria Palli. Both these churches date back to the mid 16th century.
After visiting the churches & temples of Kottayam, proceed to visit Phillip Kutty's Farm (organic farm), located on a small farm island in the backwaters (Vembanad Lake) next to Kumarakom.
Return to hotel in the afternoon.
Rest of the day at leisure for Ayurveda (on direct payment) etc.
Overnight in Kumarakom.

Day 12: Kumarakom/ House-Boat
Breakfast at hotel and rest of the morning at leisure.
Later, climb aboard the traditional RICE BOAT (kettuvallam) converted into houseboats with bedrooms and attached toilets.
Originally these boats were used as ferries to carry rice etc. Cruise through the backwaters of Kerala. This fascinating "backwaters" in traditional houseboats takes you through narrow canals, past paddy fields and villages, allowing you to enjoy the silence of the backwaters and have a glimpse of the lifestyle of the people living along the canals.

All Meals (Lunch, Dinner & Breakfast) will be served on board, prepared by the houseboat crew.
Overnight in Houseboat.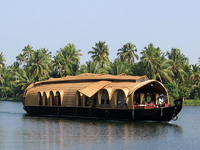 Day 13: House-Boat/ Alleppey/ Cochin (70Kms & 1.5hrs drive)
Breakfast will be served on boat and continue cruising on backwater.
Disembark at Alleppey, from where you will be transferred by car to Cochin.
Arrive Cochin and check in your hotel.
In the afternoon, proceed for city tour of Cochin, visiting historic Jewish Synagogue (remains closed on Fridays & Saturdays), Portuguese built "The Mattanchery Palace" or Dutch Palace (remains closed on Fridays)- an amazing museum, the Church of St Francis- within which is the Tomb of Vasco da Gama and other attractions of Fort Cochin.
In the later afternoon, proceed for a Sunset boat cruise around Cochin harbour and visit Chinese fishing nets of Cochin, which are fixed land installations for an unusual form of fishing.
In the evening, proceed to witness the famous Kathakali Dance performance, which is about 400 years old dance drama of Kerala that narrates the events of India's religious epic- The Ramayana and the Mahabharata. The main aspect of Kathakali is its elaborate make-up and unusual costumes.
Overnight in Cochin.

Day 14: Cochin/ Fly out
After breakfast at hotel, you will be transferred to Cochin airport to board flight back home with sweet memories of your Kerala Trip!!

***END OF THE TOUR***