Home
»
Rajasthan Tour Packages
» Rajasthan Forts & Palaces Tour
Rajasthan Forts & Palaces Tour
Duration:
09 Nights/10 Days
Destinations:
Delhi- Agra- Jaipur- Ajmer- Pushkar- Jodhpur- Udaipur- Delhi
Day 01: Arrive Delhi
Arrive Delhi by flight in the evening.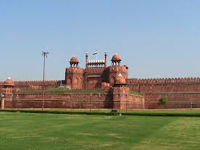 Delhi is the capital of India- the largest democratic and 2nd most populous country in the world and the city has seen its rise and fall several times. New Delhi is the 8th city built by British. Delhi is famous for its beautiful monuments built by different emperors, which can be seen during the city tour.

You will be well received on your arrival at the Delhi airport and transfer to hotel.
After check- in formality, you will check in to the room.
Overnight in Delhi.

Day 02: Delhi
After breakfast at hotel, proceed for full day city tour of Old Delhi (in the morning) & New Delhi (in the afternoon).
The city of Delhi can be divided into two parts, Old Delhi and New Delhi.
Old Delhi was earlier ruled by Muslim Sultans for about 700years and later, it became the capital of the Mughal Empire between 17th & 19th centuries. Whereas New Delhi is an imperial and modern city, built by British, when they decided to move their capital from Calcutta in 1911.

The sightseeing of Old Delhi includes a visit to Jama Masjid- India's largest mosque, Red Fort- constructed by the Mughal emperor Shah Jahan, Rajghat- cremation site of father of Nation- Mahatma Gandhi and finally enjoy the rickshaw ride through the old streets of Chandni Chawk, the busiest market of Old Delhi.
Sightseeing of New Delhi includes a visit to India Gate- built in memory of Indian soldiers killed during the First World War. Rashtrapati Bhawan (from outside)- built in the early 20th century as the Imperial residence of the Viceroy, today the official residence of the President of India. Parliament House- an unique circular building with huge colonnades, which houses the Upper and Lower Houses of Parliament. Humayun's Tomb- is the first Mughal garden tomb, which looks like the famous Taj Mahal and finally Qutab Minar- one of Delhi's most striking monuments, which is the world's tallest brick minaret with a height of 72.5 meters.
Overnight in Delhi.

Day 03: Delhi/ Agra (210Kms & 4hrs drive)
After breakfast at hotel, drive to Agra.
On the way visit the tomb of Mughal Emperor "Akbar the Great", which is a magnificent gateway in white and colored marble with four elegant minarets.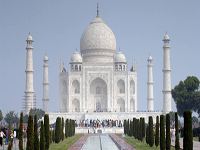 Agra is famous for world's most beautiful monument of love- Taj Mahal. The history of Agra is much older than the times of Mughals but during the Mughal Empire, Agra had become one of the great centers of art, culture, learning and commerce. All the great monuments with magnificent work of art and craft are still flourishing in the city including leather work and pietra dura marble-inlay work. Agra is famous for its marble work like tabletops, vases and trays, inlaid with semi precious stones or gems in ornate floral designs, an imitation of those found in the Taj Mahal. Agra is also an excellent place to buy leather, as it exports shoes, bags, briefcases and jackets.
Arrive Agra and check in to your hotel.

In the afternoon, proceed for city tour of Agra, visiting the massive Agra Fort- constructed out of red sand stone by the Mughal Emperor Akbar and containing the Halls of Public and Private Audience. Itmad-ud daulah, one of the most beautiful of Mughal tombs, stands across the river Yamuna. And finally the world famous Taj Mahal, which was built by the Mughal Emperor Shah Jahan as the mausoleum of his beloved Queen Mumtaz Mahal, after her death in 1631. The Taj Mahal is recognized worldwide as a symbol of eternal love. Taj Mahal remains closed on Fridays.
Overnight in Agra.

Day 04: Agra/ Jaipur (230Kms & 5-6hrs drive)
OPTION: Wake up early in the morning to visit Taj Mahal at sunrise (an extra cost).
Return to hotel for breakfast.
After breakfast at hotel, drive to Jaipur.
On the way, visit Fatehpur Sikri (40kms from Agra) & Bharatpur Bird Sanctuary (17kms further from Fatehpur Sikri).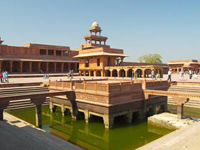 Fatehpur Sikri, was built by Mughal Emperor Akbar between 1569- 1585, when he shifted his capital from Agra. But after a few years, the water supply was incapable of sustaining the population and the capital was shifted back to Agra. Now it is a deserted city and also called a ghost city but it is perfectly preserved. Akbar was a very tolerant ruler and the buildings at Fatehpur Sikri blended both Islamic and Hindu architecture. One of the buildings even reflects the new religion or faith founded by Akbar'- "Din-e-ilahi", which was very short-lived. He abolished much hated poll- tax on non- muslims (Jizya) and was the first Mughal ruler to marry a Hindu (Rajut princess from Jaipur). It is a beautiful palace complex with Hindu and Muslim artistic buildings. You can visit Birbal's Palace (Hindu building), Jodhbai's Palace (Hindu building), Jami Masjid, Tomb of Sheikh Salim Chishti and Buland Darwaza etc. Buland Darwaza is also called "Gate of Magnificence'. It is the highest gateway in the world. One has to climb 42 steps to reach this gateway, which is 40mtr high and 35mtr wide.
The Keoladeo Ghana National Park or Bharatpur Bird Sanctuary in Rajasthan is a famous Bird sanctuary that witness thousands of rare and highly endangered birds such as the Siberian Crane come here during the winter season. Over 230 species of birds are known to have made this National Park their home. It was declared a protected sanctuary in 1971 and it is also a World Heritage Site.
Continue driving to Jaipur.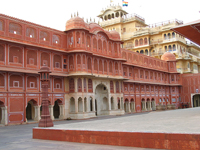 Jaipur or the Pink City was founded by Maharaja Jai Singh II (1693-1743) and is the capital city of the state of Rajasthan. Jaipur is surrounded by hills and the beautiful forts. Jaipur with Agra and Delhi has made a circuit, which is called India's Golden Triangle- the most popular tourist destinations in India. Jaipur is a planned city built according to the ancient Hindu treatise "Vastu Sashtra". The orderly bazaars of the old town are ranked among the most vibrant in Asia. Jaipur is the perfect place to shop for Handicrafts, antiques, jewelry, gems, pottery, carpets, textiles, metalwork and leather ware. Jaipur is renowned for hand- dyed and embroidered textiles, Handicrafts, antiques, pottery, carpets, jewellery and the best selection of precious stones and metals in India.
Arrive Jaipur and check into your hotel.
Rest of the day at leisure.
Overnight in Jaipur.

Day 05: Jaipur
After breakfast at hotel, proceed to visit Amber Fort, the ancient capital of Jaipur.
Amber Fort is built on the crest of a rocky hill behind the Maota Lake in the outskirt of Jaipur. Amber was the capital of the Kuchwaha rajputs from 1037- 1728. Ascend the Fort on elephant back (subject to availability). Amber Fort has a magnificent Palace compound. One can enter the Palace complex through Suraj Pole (Sun Gate) and step into Jaleb Chowk, where one can have elephant ride. Singh Pole (Lion Gate) give the access to the palaces. Diwan- i- Am (public Audience), Ganesh Pole, Sheesh Mahal, Jas Mandir (temple), Sukh Mahal and the Palace of Mansingh I are worth visiting.
In the afternoon, proceed to visit the Pink City of Jaipur, visiting City Palace, built between 1728- 1732, it occupies the center of Jaipur and is surrounded by high walls. The important buildings within the Palace are textile and the costume museum, armory museum, Diwan-I-Khas and Diwan-I-am. Jantar Mantar is the largest stone observatory in the World and one of the five astronomical observatories built by Maharaja Jai Singh in India.

On the way back to hotel, stop for photo clicks at the Hawa Mahal or the Palace of the Winds, which is Jaipur's most famous building was built for the ladies of the harem.
Overnight in Jaipur.

Day 06: Jaipur/ Ajmer/ Pushkar/ Jodhpur (320Kms & 6hrs drive)
After breakfast at hotel, drive to Jodhpur.
On the way, visit the Dargah Sharif of Sufi saint Hazrat Khwaja Muin- ud- din Chishti at Ajmer and Brahma Temple in Pushkar, which is the only of Lord Brahma in the world.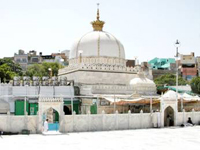 Ajmer is one of the most important pilgrimage centre for both Hindus and Muslims. The city was founded by Ajayraj Singh Chauhan of the Chauhan dynasty late 7th century A.D. Ajmer has been a religious centre, where a saint was regarded by all people, irrespective of any caste or religion. Surrounded by majestic Aravali hills on all sides, Ajmer was invaded many times by Turkish Muslims and ruled by Delhi Sultanate, Mewar, Marwar, Mughals, Marathas and finally fell in the hands of the British. It is believed that seven visits to Ajmer is equivalent to one visit to Mecca, especially picks up during Muharram and Id and for the Chishti's anniversary day or Urs Mela in the month of October- November. Today, Ajmer is one of the popular tourist destinations in Rajasthan and also popular for its artifacts and Silver Jewellery.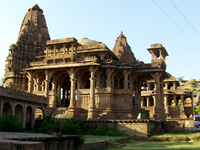 Pushkar is one of the most popular Hindu pilgrimage centre because of its Brahma temple, which is only the temple of Lord Brahma in the whole world. As per the Hindu mythology, Lord Brahma dropped a lotus flower to earth to kill a demon and at the three spots where the petals landed in the earth, water magically appeared in the midst of the desert to form three small blue lakes. This beautiful lake is today revered as one of India's most sacred sites and all the temples and the bathing ghats all around the lake.
Continue drive to Jodhpur.
Situated in the eastern side of picturesque Thar Desrt, Jodhpur was founded by Rao Jodha in 1459AD, when he shifted his capital from Mandor to a few kilometers away and named it after himself. Jodhpur is also called "the Blue city" because of the Blue colour painted on its houses in the old city. Once the centre of Marwar, the largest princely state of Rajputana, today Jodhpur is the second largest city in Rajasthan and popular for its massive Mehrangarh Fort.
Arrive Jodhpur and check into your hotel.
Rest of the day at leisure to visit the market for shopping etc.
Jodhpur is famous for its tie-and-dye fabrics, silver jewellery, embroidered 'jutis' or Rajasthani shoes, antiques, carpets, leather work from camel skin, Rajasthani puppets and marble inlay work.
Overnight in Jodhpur.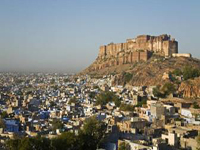 Day 07: Jodhpur
After breakfast at hotel, proceed for city tour of Jodhpur, visiting the most imposing monument of Jodhpur- Mehrangarh Fort, which is undoubtedly the most prominent landmark of the city. The museum within the fort is one of the finest in Rajasthan and displays royal apparel, ancient paintings and manuscripts, fabled treasures of the royal household and an armoury. Jaswant Thada, which is Maharaja Jaswant Singh II's cenotaph, built in 1899. All previous rulers have their cenotaphs at Mandore.

In the later afternoon, proceed for Jeep Safari to visit Bishnoi Village. The Bishnoi's are one of the different community of Rajasthan, famous for their rich cultural Rajasthani Life and their true love for nature and animals.
Return to hotel in the evening.
Overnight in Jodhpur.

Day 08: Jodhpur/ Udaipur (270Kms & 5hrs drive)
After breakfast at hotel, drive to Udaipur.
On the way visit the famous Jain temple at Ranakpur, which is one of the five most important pilgrimage sites of Jain community in India. These incredibly beautiful temples were built in 1439AD by Rajput monarch Rana Kumbha. The temple has 29 halls, 80 domes and 1444 pillars (all different) and each of them is beautifully intricately and artistically carved.
Continue drive to Udaipur.
Udaipur was built by Maharaja Udai Singh in 1568, when he shifted his capital from Chittorgarh to Udaipur because of its swampy location beside Lake Pichola and was protected on all sides by Aravali hills. Udaipur has been enjoying a reputation as Rajasthan's most romantic city because of its fantastic location and its famed lake Pichola. Udaipur is also considered as the jewel of Mewar, because of its Forts and palaces, gardens and temples all around its beautiful lakes.
Arrive Udaipur and check in at hotel.
Rest of the day at leisure.
Overnight in Udaipur.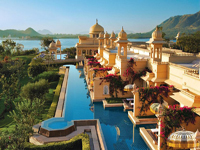 Day 09: Udaipur
After breakfast at hotel, proceed for city tour of Udaipur, visiting The City Palace stands on a hill on the banks of Lake Pichola. It was built in 1567 and consists of 4 major palaces and several minor palaces that form a single façade. Jagdish Temple, which was built by Maharaja Jagat Singh in 1651 is dedicated to Lord Vishnu and is located in the centre of the old city. Sahelion ki Bari, which was built by Maharana Sangram Singh for his daughter and the ladies of the Queen's court. The Vintage and Classic Car Collection where grand limousines and cars showcased in the museum. They all are the private collection of the House of Mewar and are in perfect running condition. The collection includes a Rolls Royce, 1939 Cadillac open convertibles, rare Mercedes models, a 1936 Vauxhall, a 1937 Opel and an MG-TC 1946 convertible etc.
In the evening take sunset boat cruise on Lake Pichola, which is a manmade lake and is one of the prime attractions of Udaipur.
The lake is known for the Lake Palace built amidst the lake. The lake was built by Maharana Udai Singh II. Surrounded by Aravali hills, gardens, havelis, temples and ghats, Lake Pichola is the picturesque spot of Udaipur. The lake is about 4km long and 3km wide and not very deep. It often dries up in the severe summer months.
Overnight in Udaipur.

Day 10: Udaipur/ Delhi- Fly & Delhi/ Fly back home
After breakfast at hotel, proceed to visit the famous temples at Eklingji and ruins at Nagda. 22Kms from Udaipur, Eklingji is a temple complex of 108 ancient temples, made out of sandstone and marble. The temple, which were built in 734AD dedicated to Lord Shiva and worshipped as the Ultimate Reality, the supreme power and the wholesome one – Parabhrama.
Return to hotel and check out.

In the afternoon, you will be transferred to Udaipur airport to board flight to Delhi.
Arrive Delhi and transfer to Delhi International airport to board your flight back home with sweet memories of your trip with Dependable Travel Solutions (India) !!

***END OF THE TOUR***