Home
»
Incentive Tours
» Golden Triangle Tour with Samode
Golden Triangle Tour
Duration:
05 Nights/06 Days
Destinations:
Delhi- Agra- Jaipur- Samode- Delhi
Day 01: Arrive Delhi
Arrive Delhi by flight in the evening.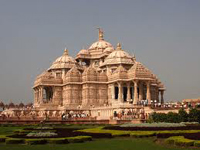 Delhi is the capital of India- the largest democratic and 2nd most populous country in the world and the city has seen its rise and fall several times. New Delhi is the 8th city built by British. Delhi is famous for its beautiful monuments built by different emperors, which can be seen during the city tour.

You will be well received on your arrival at the Delhi airport and transfer to hotel.
After check- in formality, you will check in to the room.
OPTION: Midnight snacks to be served on arrival- on extra supplement.
Overnight in Delhi.
Day 02: Delhi
After breakfast at hotel, proceed for full day city tour of Old Delhi (in the morning) & New Delhi (in the afternoon).
The city of Delhi can be divided into two parts, Old Delhi and New Delhi.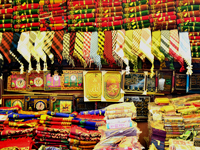 Old Delhi was earlier ruled by Muslim Sultans for about 700years and later, it became the capital of the Mughal Empire between 17th & 19th centuries. Whereas New Delhi is an imperial and modern city, built by British, when they decided to move their capital from Calcutta in 1911.

The sightseeing of Old Delhi includes a visit to Jama Masjid- India's largest mosque, Red Fort- constructed by the Mughal emperor Shah Jahan, Rajghat- cremation site of father of Nation- Mahatma Gandhi and finally enjoy the rickshaw ride through the old streets of Chandni Chawk, the busiest market of Old Delhi.
Buffet Lunch at local restaurant.

Sightseeing of New Delhi includes a visit to India Gate- built in memory of Indian soldiers killed during the First World War. Rashtrapati Bhawan (from outside)- built in the early 20th century as the Imperial residence of the Viceroy, today the official residence of the President of India. Parliament House- an unique circular building with huge colonnades, which houses the Upper and Lower Houses of Parliament. Humayun's Tomb- is the first Mughal garden tomb, which looks like the famous Taj Mahal and finally Qutab Minar- one of Delhi's most striking monuments, which is the world's tallest brick minaret with a height of 72.5 meters.

Dinner will be served in a local restaurant with private area.
Overnight in Delhi.

Day 03: Delhi/ Agra (210Kms & 4hrs drive)
After breakfast at hotel, drive to Agra.
On the way visit the tomb of Mughal Emperor "Akbar the Great", which is a magnificent gateway in white and colored marble with four elegant minarets.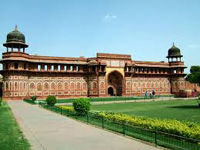 Agra is famous for world's most beautiful monument of love- Taj Mahal. The history of Agra is much older than the times of Mughals but during the Mughal Empire, Agra had become one of the great centers of art, culture, learning and commerce. All the great monuments with magnificent work of art and craft are still flourishing in the city including leather work and pietra dura marble-inlay work. Agra is famous for its marble work like tabletops, vases and trays, inlaid with semi precious stones or gems in ornate floral designs, an imitation of those found in the Taj Mahal. Agra is also an excellent place to buy leather, as it exports shoes, bags, briefcases and jackets.
Arrive Agra and check in to your hotel.

Buffet Lunch at local restaurant.

In the afternoon, proceed for city tour of Agra, visiting the massive Agra Fort- constructed out of red sand stone by the Mughal Emperor Akbar and containing the Halls of Public and Private Audience. Itmad-ud daulah, one of the most beautiful of Mughal tombs, stands across the river Yamuna. And finally the world famous Taj Mahal, which was built by the Mughal Emperor Shah Jahan as the mausoleum of his beloved Queen Mumtaz Mahal, after her death in 1631. The Taj Mahal is recognized worldwide as a symbol of eternal love.
Taj Mahal remains closed on Fridays.

Dinner at hotel's lawn with Kathakali dance show.
OPTION: MUGHAL Theme Dinner in the hotel's lawn with Kathakali dance- on extra supplement.
This theme dinner takes you back to the fabled world of the Mughals. "Chobdars" (gatekeepers) usher guests to the "dawat-khana" (venue of the function). Hostesses clad in silken, flowing `ghagra' (skirts) and `chunnis' (veils) welcome the guests with flowers and "attar" (perfume) in the traditional style. The sultry melodies of live Indian classical music, sumptuous Mughlai cuisine, live Kathak dance performance (the royal dance of the Mughal Courts) makes a traditional Mughal dinner, a truly unforgettable experience.
Overnight in Agra.

Day 04: Agra/ Samode (230Kms & 5-6hrs drive)
OPTION: Wake up early in the morning to visit Taj Mahal at sunrise (an extra cost).
Return to hotel for breakfast.
After breakfast at hotel, drive to Jaipur.
On the way, visit Fatehpur Sikri (40kms from Agra) & Bharatpur Bird Sanctuary (17kms further from Fatehpur Sikri).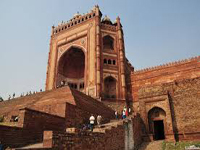 Fatehpur Sikri, was built by Mughal Emperor Akbar between 1569- 1585, when he shifted his capital from Agra. But after a few years, the water supply was incapable of sustaining the population and the capital was shifted back to Agra. Now it is a deserted city and also called a ghost city but it is perfectly preserved. Akbar was a very tolerant ruler and the buildings at Fatehpur Sikri blended both Islamic and Hindu architecture. One of the buildings even reflects the new religion or faith founded by Akbar'- "Din-e-ilahi", which was very short-lived. He abolished much hated poll- tax on non- muslims (Jizya) and was the first Mughal ruler to marry a Hindu (Rajut princess from Jaipur). It is a beautiful palace complex with Hindu and Muslim artistic buildings. You can visit Birbal's Palace (Hindu building), Jodhbai's Palace (Hindu building), Jami Masjid, Tomb of Sheikh Salim Chishti and Buland Darwaza etc. Buland Darwaza is also called "Gate of Magnificence'. It is the highest gateway in the world. One has to climb 42 steps to reach this gateway, which is 40mtr high and 35mtr wide.
The Keoladeo Ghana National Park or Bharatpur Bird Sanctuary in Rajasthan is a famous Bird sanctuary that witness thousands of rare and highly endangered birds such as the Siberian Crane come here during the winter season. Over 230 species of birds are known to have made this National Park their home. It was declared a protected sanctuary in 1971 and it is also a World Heritage Site.
Lunch at a local restaurant in Bharatpur and continue drive to Samode.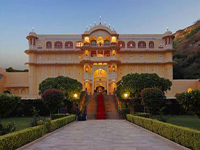 Samode, a small village is located 50Kms north west of Jaipur, the capital city of Rajasthan. Samode has so much for the tourists like chhatries, old water wells, 400 year old gates, three forts, temples, gardens and of course it's beautiful Samode palace. Apart from this, one can see the local arts and crafts like miniature paintings, iron work, jewellery, stone cutting, leather, carpet weaving, etc. The major tourist attraction in Samode is Samode Palace, which is a grand heritage hotel now.
Arrive Samode and check into your hotel
Buffet Dinner will be served in the hotel's lawn.
Overnight in Samode.

Day 05: Samode- Excursion to Jaipur (50Kms one way &1 hrs drive)
After breakfast at hotel, proceed to visit Jaipur.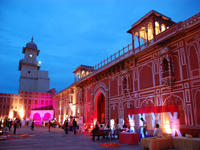 Jaipur or the Pink City was founded by Maharaja Jai Singh II (1693-1743) and is the capital city of the state of Rajasthan. Jaipur is surrounded by hills and the beautiful forts. Jaipur with Agra and Delhi has made a circuit, which is called India's Golden Triangle- the most popular tourist destinations in India. Jaipur is a planned city built according to the ancient Hindu treatise "Vastu Sashtra". The orderly bazaars of the old town are ranked among the most vibrant in Asia. Jaipur is the perfect place to shop for Handicrafts, antiques, jewelry, gems, pottery, carpets, textiles, metalwork and leather ware. Jaipur is renowned for hand- dyed and embroidered textiles, Handicrafts, antiques, pottery, carpets, jewellery and the best selection of precious stones and metals in India.
Arrive Jaipur and proceed to visit Amber Fort, the ancient capital of Jaipur.
Amber Fort is built on the crest of a rocky hill behind the Maota Lake in the outskirt of Jaipur. Amber was the capital of the Kuchwaha rajputs from 1037- 1728. Ascend the Fort on elephant back (subject to availability). Amber Fort has a magnificent Palace compound. One can enter the Palace complex through Suraj Pole (Sun Gate) and step into Jaleb Chowk, where one can have elephant ride. Singh Pole (Lion Gate) give the access to the palaces. Diwan- i- Am (public Audience), Ganesh Pole, Sheesh Mahal, Jas Mandir (temple), Sukh Mahal and the Palace of Mansingh I are worth visiting.
Lunch at local restaurant (Indian cuisine).

In the afternoon, proceed to visit the Pink City of Jaipur, visiting City Palace, built between 1728- 1732, it occupies the center of Jaipur and is surrounded by high walls. The important buildings within the Palace are textile and the costume museum, armory museum, Diwan-I-Khas and Diwan-I-am. Jantar Mantar is the largest stone observatory in the World and one of the five astronomical observatories built by Maharaja Jai Singh in India.
Return to Samode in the evening.
Bar-Be-Que Dinner at Sand dunes with Rajasthani Dance.

OPTION: Special Gala Dinner (Durbar Evening) at Samode Palace- on extra supplement.
As you enter Samode you will be welcomed by colorfully decorated camels. You will be transported by camel cart procession to the Palace by torchlight. Enter Samode Palace on camel carts, accompanied by musicians. You will be welcomed at Samode Palace by village elders bearing garlands and flowers. The Palace will be fully illuminated and looking resplendent. An evening of merriment includes a Royal welcome, Champagne cocktail, a Royal Dinner with local dancers & musicians and a cultural extravaganza, which takes us back over 475 years.
Overnight in Samode.

Day 06: Samode/ Delhi (260Kms & 5-6hrs drive)/ Fly back home
After breakfast at hotel, proceed for for Jeep Safari around the village Samode to see the village life, fields, local shrines, bazaars and enjoy the scenic beauty.
Picnic Lunch at mango orchard (a local farm) or Samode Bagh.
In the afternoon, drive to Delhi.
OPTION: Fly to Delhi in the evening (on an extra cost).
In that case, you have free afternoon for shopping in Jaipur.
Jaipur's colorful markets offer a great break to stop and shop on you tour. Jaipur is the perfect place to shop for Handicrafts, antiques, jewelry, gems, pottery, carpets, textiles, metalwork and leather ware.

Arrive Delhi and transfer to Delhi International airport to board your flight back home with sweet memories of your trip with Dependable Travel Solutions (India) !!

***END OF THE TOUR***