Buddhist Tour
Duration:
13 Nights/14 Days
Destinations:
Delhi- Lucknow- Sravasti- Lumbini- Kushinagar- Bodhgaya- Rajgir- Nalanda- Bodhgaya- Sarnath- Varanasi- Delhi
Day 01: Arrive Delhi
Arrive Delhi by flight in the evening.
Delhi is the capital of India- the largest democratic and 2nd most populous country in the world and the city has seen its rise and fall several times. New Delhi is the 8th city built by British. Delhi is famous for its beautiful monuments built by different emperors, which can be seen during the city tour.

You will be well received on your arrival at the Delhi airport and transfer to hotel.
After check- in formality, you will check in to the room.
Overnight in Delhi.

Day 02: Delhi
After breakfast at hotel, proceed for full day city tour of Old Delhi (in the morning) & New Delhi (in the afternoon).
The city of Delhi can be divided into two parts, Old Delhi and New Delhi.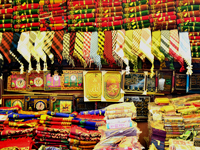 Old Delhi was earlier ruled by Muslim Sultans for about 700years and later, it became the capital of the Mughal Empire between 17th & 19th centuries. Whereas New Delhi is an imperial and modern city, built by British, when they decided to move their capital from Calcutta in 1911.

The sightseeing of Old Delhi includes a visit to Jama Masjid- India's largest mosque, Red Fort- constructed by the Mughal emperor Shah Jahan, Rajghat- cremation site of father of Nation- Mahatma Gandhi and finally enjoy the rickshaw ride through the old streets of Chandni Chawk, the busiest market of Old Delhi.
Sightseeing of New Delhi includes a visit to India Gate- built in memory of Indian soldiers killed during the First World War. Rashtrapati Bhawan (from outside)- built in the early 20th century as the Imperial residence of the Viceroy, today the official residence of the President of India. Parliament House- an unique circular building with huge colonnades, which houses the Upper and Lower Houses of Parliament. Humayun's Tomb- is the first Mughal garden tomb, which looks like the famous Taj Mahal and finally Qutab Minar- one of Delhi's most striking monuments, which is the world's tallest brick minaret with a height of 72.5 meters.
Overnight in Delhi.

Day 03: Delhi/ Lucknow- fly & Lucknow/ Sravasti (165Kms & 4-5hrs drive)
After breakfast at hotel, you will be transferred to airport to board your flight to Lucknow.
Arrive Lucknow and drive straight to Sravasti.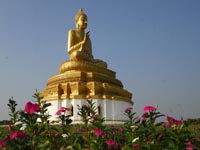 Sravasti is a holy town located near the Rapti River in northeastern state Uttar Pradesh and associated with the life of Buddha and also associated with Jain Tirthankar. In Buddhist times (from 6th century BC-6th century AD), Sravasti was the capital of the kingdom of Kosala and was important trading centre and religious place, Buddha is believed to have spent 24 monsoons here in the city. The village Sahet-Mahet, highlights Buddha's association with Sravasti, as it has monasteries and several temples associated with Budha. Other examples of Budha's association with the city is Jetavana Monastery, which was presented to Buddha by a wealthy banker, Anathapinaka. Other important Buddhist monastery were the Rajakarama and the Purvarama. Sobhanath temple in the city is believed to be the birth place of Jain tirthankar 'Sambhavanath', which makes Sravasti an important centre for the Jainas as well.
Arrive Sravasti and check in to your hotel.
Overnight in Sravasti.

Day 04: Sravasti/ Lumbini (225kms & 5-6hrs drive)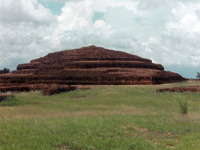 After breakfast at hotel, proceed for city tour of Sravasti, where the Buddha preached most of his sermons. It is believed that Sravasti, also called as Sahet-Mahet, was founded by the legendary king Sravast. This place is important religious place, as Lord Buddha performed a number of miracles here. It was in Sravasti, where he displayed a million fold manifestation of himself. He was seated on a lotus with thousand petals, with fire and water radiating from His body and during the monsoon, Buddha used to stay at the Jetavana monastery, where he spent 27 monsoons.
Visit Sahet Mahet and Angulimal caves and later, drive towards Lumbini.
Enroute visit Kapilavastu, where Lord Buddha spent his childhood, where he saw suffering and pain, disease and death.
Visit the main stupa complex, eastern stupa and the ruins of the palace.

Continue drive towards Lumbini.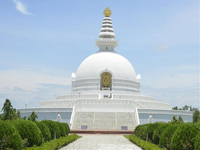 Lumbini is a Buddhist pilgrimage site in Nepal- the birth place of Lord Budha, where Queen Mayadevi gave a birth to Siddhartha Gautama. Three hundred years after the Mahaparinirvana, Emperor Ashoka visited Lumbini and erected a pillar there. Though the pillar has broken, but it still remains at the site. It is known as the Rummendei Pillar after the earlier name of the place (modern name Rupandhei) in Nepal.

Arrive Lumbini and check in to your hotel.
Overnight in Lumbini.

Day 05: Lumbini/ Kushinagar (175kms & 5hrs drive)
After breakfast at hotel, proceed for city tour of Lumbini, declared as UNESCO World Heritage Site, visiting Mayadevi temple and The Ashokan Pillar. South of the Ashokan Pillar, there is the famous sacred pool "Puskarni", which is believed to be the same sacred pool in which Maya Devi took a holy dip just before giving birth to the son Sidhartha (Lord Buddha) and also where infant was given his first purification bath.

Later, drive towards Kushinagar- which is named after the sacred death of Lord Buddha. Lord Buddha attained Mahaparinirvana (Salvation) in 483 BC in Kushinagar.

Arrive Kushinagar and check in to your hotel.
In the afternoon, proceed for city tour of Kushinagar, visiting the Mahaparinirvana Stupa- which is built on the place of Buddha's Mahaparinirvana (Great Nirvana or passing away) and the place of his cremation, which is 1.6Kms away. Close to the Mahaparinirvana Stupa is located a 1500 year old image of Buddha, as he attained Parinirvana. The Mahaparinirvana Stupa is surrounded by ruins of ancient monasteries.
Overnight in Kushinagar.

Day 06: Kushinagar/ Vaishali/ Patna (260Kms & 7-8hrs drive)
After breakfast at hotel, drive to Patna. On the way, visit Vaishali- which is also associated with Buddha, as Buddha first visited this place in the fifth year after his Enlightenment and spent rainy season here. It is the palace, where Buddha delivered his last sermon and announced his Parinirvana.
Arrive Vaishali and visit Ananda Stupa and Asokan pillar at Kolhua.
Drive continue to Patna.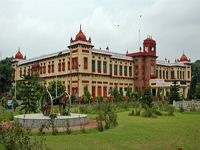 Patna is the capital of Indian state of Bihar, which was also called Pataliputra- the oldest capital city in the world. Located on along the bank of the river Ganga, Patna is a historical city with the seat of successive kingdoms since ancient times. It was Ajatshatru the Magadha king who first built a small fort in Pataligram on the bank of the Ganga in 6th century BC. Pataliputra dominated the whole of north India between 6th century BC and 5th century AD.
Arrive Patna and check in to your hotel.
Overnight in Patna.

Day 07: Patna/ Rajgir/ Nalanda/ Bodhgaya (185Kms & 6-7hrs drive)
After breakfast at hotel, drive to Bodhgaya visiting Rajgir and Nalanda on the way.
Rajgir- was the first capital of the kingdom of Magadha dating to about 1000 BC. It is very important Buddhist pilgrimage site since Lord Buddha spent 12 years over here and also preached two sermons.
The first Buddhist Council, after Budhha attained Nirvana, was held her in the Saptaparni caves. Buddha's favorite retreat was at the Jivkamaravana monastery, Venuvana- a park presented to Buddha by king Bimbisara, who also built a vihara here. Also visit Griddhkuta- where Buddha spent several months meditating and preaching.

Drive continue towards Nalanda.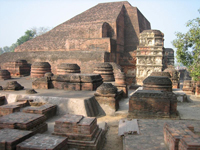 Nalanda was the most renowned university in ancient India. The Archaeological Survey of India maintains the Nalanda Museum across the road which houses some exquisite bronzes of the 9th & 10th centuries. The other beautiful sites are Thai Temple and the Nava Nalanda Mahavihara, a centre for research in Pali and Buddhist studies not very far from the main site.

Drive continue towards Bodhgaya.
Bodhgaya is the place, where Lord Buddha got Enlightenment and is a spiritual home of Buddhists. It attracts many Buddhist pilgrims from all over the world. Bodhgaya situated near the river Niranjana, is one of the holiest Buddhist pilgrimage centres since Buddha attained enlightenment under a Bodhi tree near the river and became "Budhha".

Arrive Bodhgaya and check in to your hotel.
Overnight in Bodhgaya.

Day 08: Bodhgaya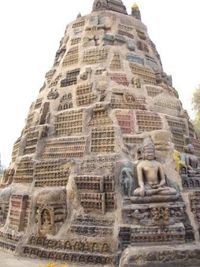 After breakfast at hotel, proceed for city tour of Bodhgaya, visiting Mahabodhi Temple- which is an imposing brick structure that is enclosed on three sides by an ancient stone railing. The temple is the birthplace of Buddhism, where Prince Siddhartha became the Buddha by attaining enlightenment. The Mahabodhi temple has a giant pyramidal structure (sikhara or tower), which rises to a height of 54mtr. Bodhi Tree (Ficus religiosa), which lies behind the main temple was planted in the 19th century and is believed to be a descendent of the original tree under which Buddha attained enlightenment. It is also called the Bo, peepul or tree of knowledge. Ashoka's Pillar, which was erected at Bodhgaya and was found near Gaya and was moved here in 1956. Sujata's Stupa- as per the legend, when Prince Siddhartha was ailing after practising severe penance, a woman named Sujata offered him some kheer (rice pudding), which helped him recover miraculously. This stupa is marked the spot where she found him.
Overnight in Bodhgaya.

Day 09: Bodhgaya/ Varanasi (240kms & 5-6hrs drive)
After breakfast at hotel, drive towards Varanasi.
On the way, visit- which is one of the most popular Buddhist pilgrim centre. It is located 10Kms north of Varanasi. It is a very religious and cultural place for Buddhists. Lord Buddha preached his first sermon here (after gaining Enlightenment at Bodh Gaya) before his five disciples 2500 years ago. This first sermon was called Dharmachakrapravartana or Turning of the Wheel of Law. It is also birth place of the 11th Jain Tirthankar Shreyans Nathji. There is one Shiva Temple also. So Sarnath is a place of Inter religious faith.

Continue drive towards Varanasi.
Varanasi is one of the oldest town and most important pilgrimage centre for Hindus in India. It has been a religious capital of Hinduism since the time immemorial. Situated on the banks of the sacred Ganges, Varanasi has been a center of learning and civilization for more than 2,000 years. Known to the devout as Kashi, the Luminous- the city of light, founded by Lord Shiva- Varanasi is one of the oldest living cities in the world. Anyone, who dies in Varanasi attains instant "moksha" or enlightenment. Old age come here to seek refuge or to live out their final days. Varanasi is amongst the holiest of all tirthas (pilgrimages).
Arrive Vaaranasi and check into your hotel.
In the evening, you will be taken to the "ghat" or bank of river Ganga to witness the evening "Aarti" of river Ganga.
Overnight in Varanasi.

Day 10: Varanasi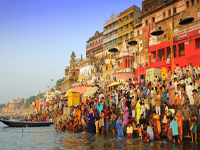 Wake up Early in the morning and proceed for boat ride on the holy river Ganges to see the bathing Ghats, people taking holy bath in the river Ganges, Brahmin priest offering Puja to river Ganges, people doing meditation and Yoga. Hindus regard the Ganges as "Amrita"- the elixir of life, which brings purity to the living and salvation to the dead. The life on the Ghats bound to an endless rituals. One can also observe cremations "burning of dead bodies" by the bank of river Ganges. Ganga water is so pure that one can keep it for months without any bacteria.
Later, disembark from the boat and walk through the narrow ghats to see the old temples of Varanasi.
Return to the hotel for breakfast.
Later, proceed to city tour, visiting Kashi Vishwanath Temple, is the most important religious site in the city- dedicated to Lord Shiva. Sankat Mochan Hanuman Temple dedicated to Lord Hanuman- theMonkey God. Sankat Mochan in Hindi means reliever from troubles. Bharat Mata Temple is dedicated to 'Mother India'. It was inaugurated by none other than Mahatama Gandhi- the 'Father of the Nation' in 1936.

In the afternoon, proceed to visit Ramnagar Fort, which is situated on the opposite bank of river Ganga. It is the ancestral home of the Maharaja of Banaras. Maharaja Balwant Singh built this fort-palace in the 18th century. The fort was built in red sandstone. The current Maharaj lives here. If the flag is up that means the Maharaja is present in the palace. The Ramnagar fort houses a museum displaying the Royal collection which includes vintage Cars, Royal palkies, an armory of swords and old guns, ivory work and antique clocks is worth visiting.
Overnight in Varanasi.
Day 11: Varanasi/ Kathmandu- Flight
After breakfast at hotel, you will be transferred to airport to board your flight to Kathmandu.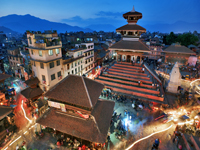 Nepal is small country located in the South Asia and shares its boundaries with India and China. It was ruled as a kingdom earlier but now it is a Federal Democratic Republic. Nepal is known for its enchanting natural beauty, with the mighty Himalayas running across the northern and western part of the country. Eight of the ten highest mountain peaks in the world including Mount Everest are residing within its boundary. Kathmandu is the capital city and the gateway to Nepal. Kathmandu is the largest city of Nepal and the centre of old historical durbar, temple, monastery and stupas.
You will be well received at the Kathmandu airport and transfer to hotel.
Rest of the day at leisure.
overnight in Kathmandu.
Day 12: Kathmandu
This early morning, you can go for Mountain flight- which can go as high as 25000ft and gives a breathtaking view of Himalayan peaks including Mount Everest (subject to weather condition)- Optional.
Return to hotel for breakfast.
After breakfast at hotel, proceed for full day city tour of Kathmandu, visiting Kathmandu Durbar Square, Pashupati Nath Temple, Boudha Nath Stupa etc.
Overnight in Kathmandu.

Day 13: Kathmandu
After breakfast at hotel, proceed for full day city tour of Kathmandu, visiting Swayambhu Nath Stupa , Patan Durbar Square
and Bhaktapur Durbar Square .
Overnight in Kathmandu.

Day 14: Kathmandu/ Delhi- Fly back home
After breakfast at hotel, you will be transferred to Kathmandu airport to board your flight to Delhi.
Arrive Delhi and connect your onward flight back home with sweet memories of your trip with Dependable Travel Solutions (India) !!

***END OF THE TOUR***