Home
»
South India Tours
» Andhra Karnataka Goa Tour
Andhra Karnataka Goa Tour
Duration:
10 Nights/11 Days
Destinations:
Hyderabad- Bidar- Gulbarga- Bijapur- Badami- Hubli- Goa
Day 01: Arrive Hyderabad
Arrive Hyderabad in the afternoon or evening.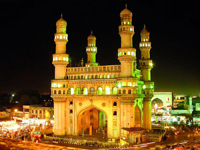 Hyderabad is one of the metropolitan cities in India and the capital of South Indian state Andhra Pradesh. Situated by the bank of river Musi, Hyderabad is the largest city in the state and 6th largest in India. Hyderabad is a perfect contrast between the traditional past and the modern world and known as the 'Istanbul of India,' because of its architectural grandeur. This beautiful city attracted the Mughal emperor Aurangzeb in North India and who took over Golconda Fort after a great struggle in 1687. Later, viceroy Asaf Jah-I took over it and declared himself the Nizam of Hyderabad. The city regained its glory in the reign of successive Nizams of the Asaf Jah and thus Hyderabad is also called "The city of Nizams".
You will be well received on your arrival at the Hyderabad airport and transfer to hotel.
After check- in formality at hotel, check in to your room.
Overnight in Hyderabad.

Day 02: Hyderabad
After breakfast at hotel, proceed for city tour of Hyderabad, visiting Golconda Fort- one of the most beautiful fort complexes in the country. The fort is a symbol of the cultural heritage of 400 year old city. Royal Qutb Shahi Tombs- the magnificent architecture of Qutub Shahi dynasty. Ibrahim bagh is picturesque place, where seven tombs have been built in the memory of seven Qutub Shahi kings, who ruled Golconda for about 170 years.

In the afternoon, visit Salarjung Museum- one of the oldest museums of Hyderabad and believed to be the largest one man collection (Salar Jung III) in the world. The Charminar, a magnificent Islamic structure of Cazia style of architecture built by Mohammed Quli Qutub Shah in 1591. Mecca Mosque, a little away from Charminar, is the oldest and the biggest mosque in Hyderabad with approx 10,000 people can offer prayer at a time. It was started by Mohammad Quli Qutub Shah in 1617 but it was completed by the Mughal Emperor Aurangazeb in 1694. Also visit the Lad bazaar for shopping etc.
Overnight in Hyderabad.

Day 03: Hyderabad/ Bidar/ Gulbarga (260Kms & 4-5hrs drive)
After breakfast at hotel, drive towards Gulbarga, visiting enroute Bidar, which was one of the most important historical towns in the state of Karnataka in South India. Visit the Bidar Fort, which is a beautiful monument of 15th century.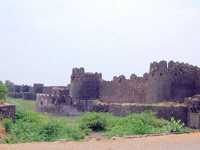 Continue drive towards Gulbarga.
Gulbarge is a small town in the state of Karnataka, was the capital of erstwhile medieval kingdom of Bahamani during 14th & 15th century. The monuments of that time can be seen today, still reflect the architectural skills of the Bahamani rulers. When Bahman Shah became of the king of Daulatabad, he chose Gulbarga as his capital. He built beautiful monuments here including mosques, stately buildings and bazaars and Gulbarga blossomed.

Arrive Gulbarga and check in to your hotel.

In the afternoon, proceed for city tour of Gulbarga, visiting The Gulbarga Fort- which is a magnificent structure with 15 towers and 26 guns. There is Jumma Masjid inside the fort, built on the lines of the great Mosque of Cardova of Spain. The tomb of the great Sufi saint, Khwaja Syed Mohammed Gesu- which is built in the Indo-Saracenic style. And The Shrine of Saint Sharana Basaveshwara- which is the shrine of an eminent Hindu religious teacher and philosopher.
Overnight in Gulbarga.

Day 04: Gulbarga/ Bijapur (160Kms & 3hrs drive)
After breakfast at hotel, drive towards Bijapur, which is located in the southern state of Karnataka. Bijapur is a renowned historic city, known for its architectural excellence and most of the monuments of Bijapur are built by Adil Shahi.
Arrive Bijapur and check in to your hotel.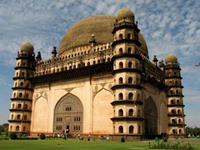 In the afternoon, proceed for city tour of Bijapur, visiting Gol Gumbaz- the tomb of Mohammad Adil Shah, which is the second largest tomb in the world, next only to St. Peter's Basilica in Rome. Gol Gumbaz is 124mtr in diameter and is most famous for the 'Whispering Gallery'. The gallery is a circular balcony on the periphery of the dome and even the tiniest of sounds can be heard on the other side of the room. It is believed that a sound gets echoed 9 times in the room before starting getting away. Jumma Masjid, which is one of the earliest Mosques in India, famous for its exclusive copy of Quran which is written in gold. The mosque is one of the biggest mosques in the region, built by Adil Shah. The Ibrahim Rauza is one of the most beautiful monuments in Bijapur and it is believed that its architectural beauty has inspired the greatest creation of Taj Mahal. Ibrahim Rauza is the mausoleum built for Ibrahim Adil Shah II.
Overnight in Gulbarga.

Day 05: Bijapur/ Badami (120Kms & 2-3hrs drive)
After breakfast at hotel, drive towards Badami, founded by Pulakesi I, ruler of the Chalukyas. Badami is located at the foot of a red sandstone rock outcrop that surrounds Agastya tirtha water reservoir on three sides and is known for its rock-cut cave temples, sculpted between 6th -8th century AD.

En route we visit Pattadakkal and Aihole. Pattadakkal is a World Heritage site t hat has 10 major temples representing the early Chaulakya architecture. The biggest temple dedicated to Virupaksheshvara, which has a huge gateway and several inscriptions. Aihole is known as the "Cradle of Indian Architecture", as it has over a hundred temples all around the village. The oldest temple the 5th century Lad Khan Temple and among other temples are the Jain Meguthi Temple and the two storeyed Buddhist Temple.
Arrive Badami and check in to your hotel.
Overnight in Badami.

Day 06: Badami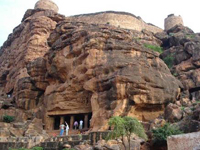 After breakfast at hotel, proceed for city tour of Badami, visiting rock-cut cave temples. These are 4 temples have been carved out on the red sandstone rock that surrounds the town. There cave temples are dated back to the Chalukyas period. First set of temples is a group of four on a hill adjacent to the Bhutanatha tank, dating back to the 5th century CE. In the adjacent wall there is a carving of the cosmic dance of Lord Shiva (Natarajan) depicted with eighteen arms. 2nd temple bears images of Lord Vishnu in his Varaha and Trivikrama incarnations. 3rd rock cut temple with inscriptions dating back to 578 CE during the period of Kiritivarma Chalukyas. There are carved images of the Narasimha & Trivikrama avataras of Lord Vishnu. 4th cave is a Jain temple dedicated to the Tirthankara Adinath with inscriptions dating back to the 12thcentury.
Overnight in Badami.

Day 07: Badami/ Hubli (130Kms & 3hrs drive)
After breakfast at hotel, drive towards Hubli, which is one of the major industrial towns in the state of Karnataka. This historic town was known as Raya Hubli and Elaya Puravada Halli during the ancient times. This city was an important commercial centre for trade in cotton and iron during the reign of the Vijaynagar Empire.

Arrive Hubli and check in to your hotel.
In the afternoon, proceed for city tour of Hubli, visiting Bhavanishankar Temple- which was built by the Chalukyan king, Someshwara in 11th century. The temple is dedicated to Lord Narayana and the deity issurrounded by the Dashavathara or the ten incarnations of God. Asar- this beautiful building was built by Mohammed Ali Shah in 1646 as the Hall of Justice. The building also has hairs of the prophet as a significant relic. Women are not allowed inside the Asar.
Overnight in Hubli.

Day 08: Hubli/ Goa (180Kms & 4hrs drive)
After breakfast at hotel, drive towards Goa.
Located on the west coast of India, Goa is India's smallest state in terms of area and the fourth smallest in terms of population. Panaji is the capital of Goa, which is a charming city on the banks of river Mandovi. Goa is renowned for its exotic beaches and therefore it attracts million of tourists every year. Goa is a party state and therefore it becomes over populated particularly during the Christmas and New Year. Goa was ruled by Portuguese for more than five hundred years and therefore it has a mix of Indian and Portuguese culture. Goa has become a round the year tourist destination because of its centre of medical treatments and seminars and conferences. The Goan population is a mixture of Hindus and Roman Catholics with majority of Hindus. Goa has been regarded as one of the most peaceful states in India.
Arrive Goa and check into your hotel.
Rest of the afternoon at leisure by the beach.
Overnight in Goa.
Day 09: Goa
Breakfast at hotel and rest of the day at leisure to enjoy the beach etc.
OR You can do the following tours on extra cost: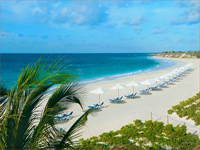 1. Old Goa Tour (Churches of Goa) and Panjim with Lunch at local restaurant.
Old Goa or Velha Goa is an ancient part of Goa and is known for its rich heritage and culture. Goa was a well known Portuguese settlement in the ancient times and while visiting Old Goa, you can feel of the rich tradition and culture. Panaji is the capital of Goa and a charming city on the banks of river Mandovi. You can visit The Basilica of Bom Jesus- which has been declared a World Heritage Site. Francis Xavier was a missionary whose body is claimed to be miraculously preserved here even till now, without the use of any chemical. The Se Cathedral- dedicated to St Catherine, is the largest church in Goa. Its construction started in 1562 and it was finally completed by 1652. It is built in the Portuguese Gothic Style. The Church of the St Francis of Assisi was built by eight Franciscan Friars in 1517. It has carved woodwork, murals with scenes from the life of St Francis and the floor is made mostly of gravestones that date from the 16th century. The Church of Our Lady of Immaculate Conception is a landmark in Panjim. The Latin quarters, Fontainhas has its own quaint little chapels tucked away behind the colorful colonial houses. Other attractions in Panaji are the library, Mahalaxmi Temple, Jama Masjid, Braganza Institute, St Thome quarter and Sebastian Chapel.

2. Anjuna Flea Market with Lunch at local restaurant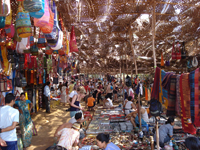 The Anjuna Flea Market in Goa is named after the famous Anjuna beach. The Anjuna market is organized on every Wednesdays on Anjuna beach. People from all over Goa come here to enjoy the shopping, which is very popular. The setting up of the Anjuna Flea Market was mainly the idea of foreigners who decided to earn some money by selling small self made items and their own belongings. Over a period of time, the idea gained momentum and more and more people joined in. Today, it has become one of the most popular local markets in Goa.

3. Saturday Night Market with Dinner at local restaurant
A good place to see local live acts is at the Saturday night market in Arpora village, which features everything from rock fusion bands to jazz and Goan folk music. Saturday Night Market is a wonderful little world in itself, providing unparalleled services and entertainment to sellers and visitors as well as being Goa's prime shopping destination. The shopping experience at Saturday Night market is unparallel, where one can find so many creative people from all over the world offering products such as hand-made leather sandals, magic crystal wands, beautiful jewelry and the latest unique fashions.

4. Day excursion to Elephant village with picnic Lunch
A compressed day trip, which includes elephant wash & ride, walk to ancient temple, wash, swim & picnic lunch. Elephants simply love splashing in the water - very much like the humans. Spend great time watching this delightful scene of washing the elephant like a little kid. A delightful trip, which will linger in mind for a long time.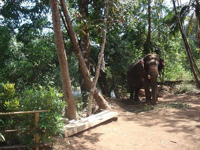 5. Day excursion to Spice Plantation with Lunch Goa has huge spice plantations that produce many of Goa's fantastic aromatic spices. Once at the plantation, you will be welcomed with an herbal tea and a leaflet briefing you about the plantation. You can see the men climb on the Betel Nut trees, over a hundred feet above the ground, swaying from tree to tree and collecting ingredients fore mixes and spices. After you tour round the plantation, you will be served lunch in an open air restaurant. The meal served on a banana leaf, accompanied by a sweet dish and a tipple of cashew feni (Goan specialty). The food that is prepared here is made purely from the ingredients available at the farm itself. While relaxing with your lunch, you might get glimpses of a few of the nearly 80 species of birds that have been sighted within the plantation.

6. Cooking lesson at a local house with Lunch
Cooking lesson can be organized at a local house in Goa. You will be first taken to the market place to buy the ingredients for the cooking. Then you will be transferred to a local house, where you will be given a demo on how to make goan dishes. You will be then given a time to prepare the assigned dish and after practices you can finally make it. Enjoy eating one of the recepies you have cooked during lunch.

7. Dolphin Tour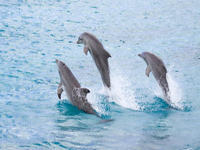 Dolphin watching trips are extremely popular in Goa. As soon as the dolphins are sighted, you will get a chance to watch the playful dolphins frolicking about in the Arabian waters. Be ready with your cameras, Dolphins will often swim within a few feet of your dolphin tour boat to have a look at you. Dolphins are playful mammals and will delight you with their antics.

8. Goa River Cruise along Mandovi River
You can also go for river cruises along Mandovi River. These river cruises have on board folk dance performances as well as traditional Goan songs and dance presentations. Popular dances like Corridinho, Dekhni are performed live on board. In the evening, drive to Baga Beach for dinner at a local restaurant; followed by going out to night clubs around Baga and dance away the night.
Overnight in Goa.

Day 10: Goa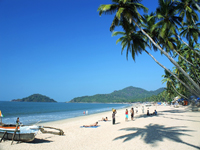 Breakfast at hotel and rest of the day at leisure to enjoy the beach etc.
OR You can do the above mentioned tour if you wish to.
Overnight in Goa.

Day 11: Goa/ Mumbai- Fly
Breakfast at hotel and rest of the day at leisure to enjoy the beach etc.
In the afternoon, you will be transferred to Goa airport to board flight to Mumbai.
Arrive Mumbai and transfer to the city centre to visit around or last minutes shopping etc.
Later in the evening, you will be transferred to Mumbai airport to board your flight back home with sweet memories of your trip with Dependable Travel Solutions (India) !!
***END OF THE TOUR***